In depth understanding of flood hazard and appropriate investments and management can increase ecosystem benefits of floods while reducing the vulnerabilities.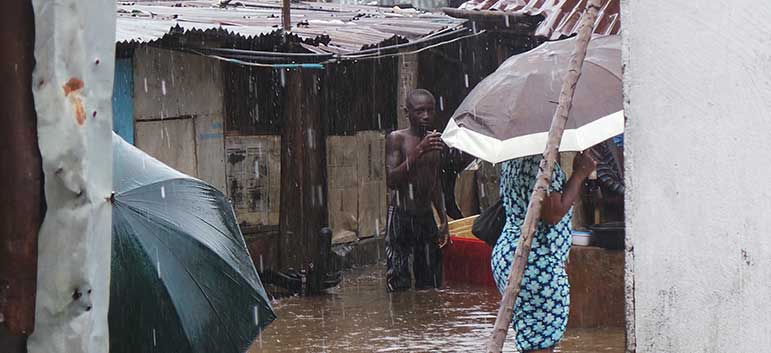 Floods are categorized as Riverine, Flash and Localized floods that are mostly urban. Inundation maps were prepared using data obtained through satellite images and historic records. 

Spatial Predictability
Predictable
Importance
Very Important
Spatial Dispersion
Very Concentrated
In this flood hazard profile development computation of inundation areas for different return periods using digital elevation model (DEM) based hydrologic modeling was not used due to time and elevation data limitations. Flood hazard information can be used in flood protection or mitigation using structural and non-structural means, planning relief operations and awareness. Structural methods involve construction of flood levees, flood protection reservoirs, flood ways or channel improvements. Non-structural methods consist of catchment and land use management improved warning and evacuation.

The human, socio-economic and environmental impacts of floods in Sierra Leone has seen a skyrocketing trend over the last decades - Between 1980 and 2010, floods affected approximately 221,204 people, killing some 145 people (11% of people killed by disasters other than the war) [1]. This number has seen an upward trend over the last few years.
On 24 June 2017, heavy downpour of rain flooded two towns of Largor Jasawabu in the Nongowa Chiefdom and Foindu Mameima in the Lower Bambara Chiefdom, near Kenema. About 100 houses were reportedly destroyed leaving some 824 people homeless[2].
Torrential rainfall in the month of August 2017 led to widespread flooding across different parts of Freetown City. On the same night of the most devastating landslide disaster in Sierra Leone (14 August 2017), torrential rains led to a series of significant floods in several areas of Freetown, including Karningo, Kamayama, Dwarzark, Kroo Bay, Congo Town, Kissy Brook, and Culvert community in Granville Brook.
A health centre, the bridge and a school at Kroo Bay were flooded on the night between Saturday and Sunday 26/27 August 2017 in downtown Freetown, resulting in one fatality and two injuries[3].
In 2015 alone, over 20,000 people were affected by floods in several districts across the country. Sustained heavy downpour of rain from the 5 to the 6 September 2015 (48 hours) burst river banks and caused destruction in eight communities in Bo and two in one Chiefdom in Pujehun District in southern Sierra Leone. Some 2,630 (463 males 614 females, 645 boys, 607 girls and 301 children under five years) in 239 households were directly affected, with about 339 houses reportedly destroyed in Bo alone. In Pujehun District about 272 persons were affected by the floods with 16 houses destroyed[4].
On the 23 September 2015, floods ravaged the city of Freetown causing tremendous damage to property, loss of livelihood and displacing over 14,000 people.
Specific areas which have been identified over the years as being vulnerable to floods include: Kroo Bay, Susan's Bay, Granville Brook, Lumley area in western Area, Port Loko and Kambia Districts, the Newton catchment area, Pujehun and Bo areas, Kenema and Moyamba Districts, and coastal beaches of the Western Area Peninsular

[5]

.


National Profile
Parameters

Scale

1

2

3

4

5

Frequency

Very Rarely

Rarely

Sometimes

Often

Frequently

Magnitude

Trivial

Small

Moderate

Large

Very Large

Duration

Very Short

Short

Average

Long

Very Long

Areal Extent

Limited

Very Sparsely

Sparsely

Densely

Widespread

Spatial Predictability

Highly Predictable

Predictable

Likely

Randomly

Very Randomly

Speed of onset

Very Slow

Slow

Moderate

Fast

Very Fast

Importance

Not Important

Somewhat Important

Moderately

Important

Very Important

Spatial Dispersion

Very Concentrated

Concentrated Moderately

Moderately

Diffused

Widely Diffused
District Profile
Area/District

Frequency Scale

Magnitude Scale

1

2

3

4

5

1

2

3

4

5

Western Area

 

 

 

 

 

 

 

 

 

 

Bo

 

 

 

 

 

 

 

 

 

 

Bonthe

 

 

 

 

 

 

 

 

 

 

Moyamba

 

 

 

 

 

 

 

 

 

 

Pujehun

 

 

 

 

 

 

 

 

 

 

Bombali

 

 

 

 

 

 

 

 

 

 

Port Loko

 

 

 

 

 

 

 

 

 

 

Tonkolili

 

 

 

 

 

 

 

 

 

 

Kambia

 

 

 

 

 

 

 

 

 

 

Koinadugu

 

 

 

 

 

 

 

 

 

 

Kenema

 

 

 

 

 

 

 

 

 

 

Kono

 

 

 

 

 

 

 

 

 

 

Kailahun

 

 

 

 

 

 

 

 

 

 
---

[1] Tarawalli, P. (2012). Diagnostics Analysis of Climate Change and Disaster Management in Relation to the PRSP III in Sierra Leone. Freetown: UNDP - SL.
[2] Bah Saidu. (2017). 'More Flooding in Eastern Chiefdoms', Awoko Newspaper, 27 June, p. 6.
[4] International Federation of Red Cross and Red Crescent Societies (MDRSL006). (2015). Sierra Leone Floods, 18 September
[5] Government of Sierra Leone, Ministry of Transport and Aviation. (2007, December). Sierra Leone National Adaptation Programme of Action (NAPA) – Final Report " – "Government of Sierra Leone. (2006). Initial Communication (INC) in Climate Change" – "Office of National Security. (2004). National Hazard Assessment Profile".